Under Pressure
Installation in space (in situ): plastic bags with air
2018
Environment of Memory 2016/2018 – Art as Resistance to Repression
https://rijeka2020.eu/projekt-okolis-sjecanja-vraca-nas-na-goli-otok/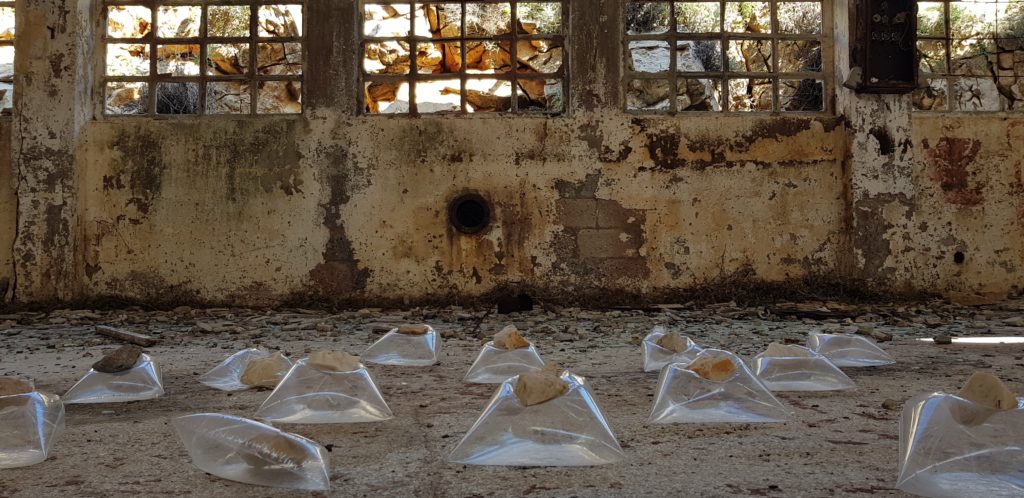 POGON JEDINSTVO, VELIKA DVORANA, Galerija 90-60-90
The exhibition features the works of about 40 artists which were created as a reaction to their visit to the concentration camp in Goli Otok.
Their works, performances and installations in situ sent a message that places at which crimes were committed should become the places of memory, learning and remembrance. The following artists participated in the project "Environment of Memory" between 2016 and 2018:
Darko Bavoljak, Marijan Crtalić, Boris Cvjetanović, Damir Čargonja Čarli, Tajči Čekada, Vlasta Delimar, Darko Fritz, Boris Greiner, Petar Grimani, Igor Grubić, Tea Hatadi, Damir Bartol Indoš, Josip Pino Ivančić, Sanj Iveković, Đo Janrić, Duje Jurić, Josip Klarica, Alem Korkut, Milomir Kovačević , Igor Kuduz, Andrea Kulunčić, Siniša Labrović, Jelena Lovec, Boris Ljubičić, Vlado Martek, Dalibor Martinis, Kata Mijatović, Marijan Molnar, Ana Mušćet, Zoran Pavelić, Petar Pavić, Vesna Pokas, Ivan Posavec, Jasenko Rasol, Frane Rogić, Neli Ružić, Marijana Stanić, Sven Stilinović, Goran Trbuljak, Mio Vesović, Vlatko Vincek, Tanja Vrvilo, Borko Vukosav, Vlasta Žanić, Jakov Žaper.
The exhibition will also feature the works from the project "Goli Otok, new Croatian Tourism 2000-2006". The exhibition curators are Darko Bavoljak, Jasmina Bavoljak and Marijana Stanić.